New protocols in place
We are very excited to be reopening for full patient care as of May 19th, 2020!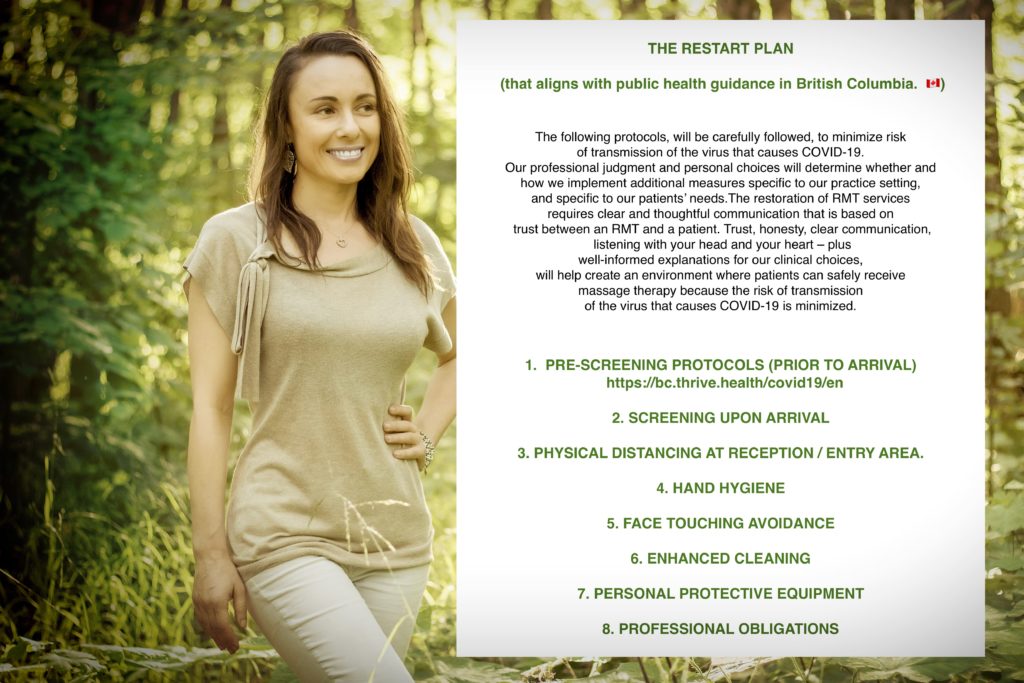 Creating a low-risk environment for Registered Massage Therapy and Myofascial Release Practice includes open communication between the RMT and the patients about steps taken to minimize the risk of viral transmission.
As our valued patients, we want you to feel welcome to communicate honestly about what you need to feel safe to return to RMT and Myofascial Release treatments.
We have created a guideline that has been provided by the CMTBC. We are aware that guidance and requirements in other jurisdictions may vary from ours … however we choose to follow protocols and procedures that align with public health guidance in British Columbia. 🇨🇦
For your health, safety and peace of mind (and ours), we will be implementing numerous changes as we navigate this new way of life.
Prior to each appointment, we require you complete the BC COVID-19 Self Assessment Tool. Please stay home if you are experiencing any symptoms of COVID-19. Our cancellation Policy is now more relaxed to ensure honesty and compliance with pre-screening questions.
Upon arrival to the clinic, for your appointment we will revisit the Self Assessment outcomes once again to ensure safety and trust in moving forward.
2. Physical Distancing must be maintained as best as possible within clinic areas other than the treatment room. We have staggered appointment start and end times and removed waiting room chairs.
Patients must arrive unaccompanied unless patient is a minor who requires parent/guardian, or infirm and needs assistance.
Patient is required to wait outside, or in the car and not in reception area. You will be texted/call when it is time to enter.
In the treatment room, it is not possible to physically distance. Pre-screening, physical distancing, hand hygiene, and enhanced cleaning help reduce the risk of transmission, and enhance return to practice while minimizing risk of harm.
We have one elevator in our building, please use it one at a time. Or use the stairs if you are physically able.
3. Hand Hygiene Upon arrival we have available a hand sanitation station.
RMT will be washing hands often for at least 20 seconds each time.
Payment is preferred online at time of booking. If you want to pay on arrival…it will be done via the online system. We accept Visa, MC or Visa debit. E-transfer is also acceptable prior to the start of your treatment time.
4. Face Touching Avoidance Corona Virus can be spread by touch if a person has used their hands to cover a cough or a sneeze. Patients are encouraged to use a tissue if an itch must be addressed.
5. Enhanced Cleaning We will Clean and disinfect all high-touch surfaces in between patients, regardless of appearance.
6. Personal Protective Equipment Mask use is NOT MANDATORY but, the issue of mask use with the patient must be addressed. We will have disposable masks available upon request, for purchase. We encourage you to bring your own, however, if you do not have one you will be able to purchase one onsite for your session. Gloves, and protective goggles will be available if the patient requests of their use, or if the RMT chooses to use PPE.
7. Professional Obligations / Additional Resources if you have questions about your health, or reporting COVID-19 infection, call 8-1-1 at any time.
Thank you for creating this safe environment by following the above Interim Guidelines. I look forward to seeing you back in the clinic!